You cannot "fix" a rotten tomato…..you have to grow a new one!

And this, my friends, is what has to happen in the Eurozone. It has finally been proven that it cannot be fixed.

When Syriza swept into power in Greece, the ordinary people of Europe, in Spain, Italy and even in Germany, sensed that there was a new spirit taking hold that would lead us to a better future for ALL in Europe. And Greece would lead the way.

Yanis is an expert in economics. And there are many others who also put forward credible suggestions to end the Greek crisis. Intellectually, all of your arguments were sound and your facts were correct. You backed up your proposals with extensive research. You engaged your critics with logical debate. You explored and understood the legal framework that governed all of the issues. You left nothing untouched in your search for the best outcome. But you could not convince those, who have the power to change things, that your case had some merit. In fact, the law was flaunted, the economics were ignored and worse, when you dared mention the democratic process, you were laughed at.

Did you expect things to happen this way? At an intellectual level, I think not. You treated your peers as your equals. You gave them credit for the positions that they held and the power that they wielded. And when they laughed in your face, you were only a little surprised…….maybe they just did not hear you the first time round. So you repeated your story. And again. And again.

So what went wrong? Many things, I suppose and the analysis will go on for a long time.

The European Dream, embodied in the old EU & Euro framework is dead or is slowly dying. I also believed in it once, but I am now willing to hammer a nail into its coffin.

And that is where I think we must start……forget about saving Europe. Lets start by saving Greece! Lets stop turning on one another. Of course, we must learn from our past mistakes, but we must move onwards, together.
Yanis Varoufakis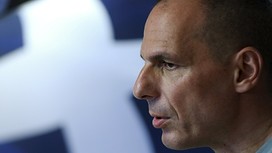 A paradox lurks in the foundations of the eurozone. Governments in the monetary union lack a central bank that has their back, while the central bank lacks a government to support it.
View original post 663 more words